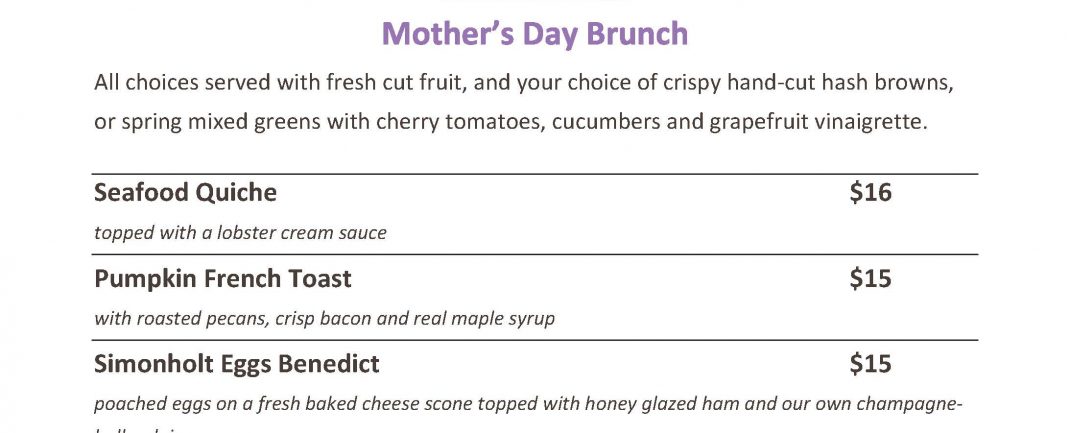 Simonholt Mother's day Brunch
Don't let Mom cook on Mother's Day! Let our fantastic Executive Chef, Edward Piksiades do the heavy lifting!!
Mother's Day Brunch
All choices served with fresh cut fruit, and your choice of crispy hand-cut hash browns, or spring mixed greens with cherry tomatoes, cucumbers and grapefruit vinaigrette.
Seafood Quiche               $16
topped with a lobster cream sauce
Pumpkin French Toast               $15
with roasted pecans, crisp bacon and real maple syrup
Simonholt Eggs Benedict                      $15
poached eggs on a fresh baked cheese scone topped with honey glazed ham and our own champagne-hollandaise sauce
Sockeye Salmon & Creamed Spinach in a Crispy Filo Pastry                   $24
with orange scented champagne hollandaise sauce
Celebrate Mom!
May we suggest a Mimosa? A classic mix of orange juice and bubbly                       $6
Or make a toast to Mom with our Segura Viudas Brut Cava                        $7.25/gl $35/btl