Behind the Grind Tour
July 26, 2016 @ 8:00 pm

-

10:30 pm

$10
Event Navigation
Kimberley MacGregor
A quick update to share news of the Behind The Grind Tour II. In early 2016 I hit the road with Curtis Phagoo, John Guliak and Levi Cuss for the Behind The Grind Tour; or as I called it the Stuck in a Van with Three Stinky Boys Tour.
As it turned out the boys stunk far less than expected, and we had a lot of fun together on the road. We played a sold out show at Fratters in Red Deer, had one of the best meals of our lives at Truffle Pigs in Field BC, and enjoyed some premium baking in Kimberley BC with our good friends at The Green Door.
It was so much fun in fact, we are doing it again! This time we are travelling deeper into BC, and are just confirming the last 2 bookings for what will be a 20 show tour over 18 days! If you live in BC or know any live music lovers who would enjoy a singer-songwriter in the round, we would greatly appreciate a share. www.kimberleymacgregor.com
Levis Cuss
Alternative Roots Rocker Levi Cuss, is one part poet, one part prophet, one part guitar player, and all musician! He is influenced by many types of music from old country, blues, rock, and everything else in between.
A singer songwriter who loves to play with a variety of bands, including his current muse, The Levi Cuss Band! www.levicuss.com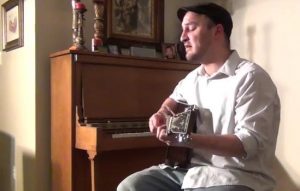 Curtis Phagoo
"I'm very excited to announce that I will be joining my friends Levi Cuss, Kimberley MacGregor, and John Guliak for a second installment of the "Behind the Grind Tour". Our seven-day tour in February was a success and I can't wait to get together with this diverse and dynamic group of songwriters for our tour.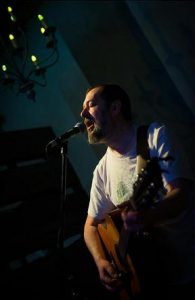 John Guliak
John Guliak is a Canadian singer-songwriter who has been performing roots music in Canada for over 20 years. John's music contrasts the isolation of his prairie upbringing with his later experiences in the urban landscapes of Glasgow, Winnipeg, Vancouver, Edmonton and Toronto.
The songs that result from this perspective have been compared to those of other uniquely Canadian voices such as Gordon Lightfoot and Leonard Cohen. His whiskey and cigarettes baritone, described in Nerve Magazine as, "one of those character voices that should almost be trademarked," places him in the company of such singers as Merle Haggard, The Handsome Family's Brent Sparks and Rufus Wainwright. www.johnguliak.com